June 20, 1999 - This just in to philipKdick.com . . . An anonymous source who might be involved in the upcoming film production of Philip K. Dick's A Scanner Darkly reports:
"Jersey Shore Films (sister company to LA's Jersey Films - Get Shorty, Pulp Fiction), is currently developing a movie-version of A Scanner Darkly, set to be directed by Australian Emma-Kate Croghlan (Love And Other Catastrophes, Strange Planet).

Not the first time someone's tried to get up this project, and it sounds like Jersey are having a bit of a hard time at it themselves, but apparently they are aiming for a mid-2000 release date, so shooting will have to start in the next few months. From what I remember, director Terry Gilliam was the most recent to try and film the novel, but found his enthusiasm dropped after he had seen the movie too many times in his own mind."(Read more about it here at Dreams: Terry Gilliam's Unresolved Projects)
June, 1999 - Like a "technological psychosis" found in a Philip K. Dick novel, according to an article in the June issue of Southern Medical Journal, individuals predisposed to delusions may focus on the Internet or weave Internet-based fantasies into their delusions. Read more about this bizarre and tragic effect of technology and download the article, "Delusions About The Internet" from the SMJ.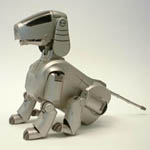 June 2, 1999 - What is stranger? A fictional mechanical sheep (from Philip K. Dick's Do Androids Dream of Electric Sheep?) or a real-life robot dog called the AIBO from Sony? I would have to go with the robot dog by a long shot! Sony releases this mechanical oddity to the consumer world to a warm reception from consumers, selling out in 20 minutes. Available only over the internet, the $2,500 robot dog may satisfy some (but not all) of the human urges explored by PKD in his science fiction. The term "Robopet" alone should have come from any number of PKD stories. According to the official AIBO web site:
"Aibo can can walk and play, sit and stretch like animals such as dogs and cats. AIBO even has emotions, instincts, and the ability to learn nd mature. Communicate, educate, love and nurture AIBO and you will have a one of a kind artificially intelligent pal."
This is something that Rick Deckard may have owned in Androids. Who knows? They may become more popular than their flesh and blood counterparts. They don't shit, smell or bark when you're trying to sleep.
It seems that The Onion picked up on the resembelance to a Philip K. Dick novel, as they paid tribute to both AIBO and PKD in this clever version of the product's ad.
Here's a weird AIBO Tribute Page.
June 25, 1999 - Entertainment Weekly runs the article "Distance Runner" by Mike Flaherty about the enduring quality of Blade Runner. It appears in the 'Encore' column on the back page of this week's issue.

Tag Line: The sci-fi noir Blade Runner opened June 25, 1982, redefining the way the movies look at the future.

Read the article here or find it at Entertainment Weekly Online.
June 10-19, 1999 - Fifth Column's production of "Flow My Tears The Policeman Said" (based on the Philip K. Dick novel). opens in London this week at the Oval House Theatre. Details at the following URL:
http://ourworld.compuserve.com/homepages/flowmytears Don't miss it!
June 1, 1999 - The 10,000th visitor lands at philipKdick.com! Are you him? I'm not sure who it is but I am pleased to announce that this person has won a year's supply of Ubik Hair Conditioner. Redeemable upon gnosis. Visit the Ubik web site for more fine products. If you're out there, please identify yourself.

philipKdick.com was born in October of 1998 as The Twisted Realities of Philip K. Dick. It was just a few book reviews and an attempt to learn HTML. The site became philipKdick.com in December of 1998 and since then has become the center of a unique online community. Thanks to the many contributors who have provided original artwork, essays, interviews, audio and video programs and making their voice heard on the Message Board. Thanks mostly to the visitors who have made this site pass the 10,000 visitor mark.
April 27, 1999 - A feature article about Philip K. Dick appeared in today's edition of the Wall Street Journal, an unlikely place to read about PKD. Entitled, "A Life of Fantasy; A Literature of Fantasy" by Robert J. Toth, the article is a brief synopsis of Dick's style and its relevance in today's technological world. It is prefaced with a paragraph about the number of movie options taken on Dick's stories and the growing popularity of the writer who longed for mainstream attention while he was alive. Click here to read the article, preserved for posterity on philipKdick.com.
April, 1999 - Will there be a sequel to Blade Runner? Rumors abound on the internet due to an article published in a March edition of the British Heat magazine. Despite all the talk, nothing has been confirmed. To read more about what's happening with this exciting project, read this letter by Stuart Hazeldine, writer of the spec BR sequel BLADE RUNNER DOWN. Thanks to Bladezone for keeping us up to date.
April 3, 1999 - As further evidence of Philip Dick's enduring influence on popular culture and media, Simpsons and Futurama creator Matt Groening mentions PKD as one of his early influences. In this week's edition of TV Guide Groening discusses his new series Futurama with a mention of PKD. The article reads:
"When Matt Groening was growing up in Portland, Oregon . . . he spent his fair share of time. . . reading science fiction comics and paperback books. He read serious stuff - works by authors such as Robert Heinlen and Philip K. Dick . . ." (TV Guide, April 3-9, 1999), pg. 16.
Groening's new show Futurama is sure to incorporate his PKD influences with a high degree of cynical irony. Check it out on Fox, special preview Sun. April 4, 8:30 PM/EST, then in its regular time slot on Tuesdays, 8:30 PM/EST. To view the complete article from TV Guide, click here. Also check out this article on Futurama from Spin Magazine.
March 21, 1999 - Los Angeles' contemporary theatre company The Evidence Room, will stage Linda Hartinian's authorized adaptation of Philip K. Dick's FLOW MY TEARS, THE POLICEMAN, SAID at the historic Ivy Substation in Culver City. Preview performances begin April 7, 1999, opening April 10. The production will run Thursdays through Sundays, through May 16. For information and reservations call 310-535-4996.
March 4, 1999 - DreamWorks has announced Minority Report will open June 30, 2000 - the Fourth of July long weekend. That's the first official 'flag planting' by a studio for that release window, usually the biggest box office grossing weekend of the year in North America.

What's really intriguing is the latest piece of gossip we were told: an anonymous scooper told us that Spielberg has asked Matt Damon to co-star in the picture once the young actor has finished making All the Pretty Horses. For more speculation and inside scoop on the status of Minority Report, visit the Corona Productions web site or the Minority Report Update from philipKdick.com

.
December 11, 1998 - Steven Spielberg and Tom Cruise to make film of Philip K. Dick's story "Minority Report". Click here for the Minority Report Update from philipKdick.com
March 25, 1998 - Planet of the robots: DreamWorks has picked up an option for "James P. Crow", based on a Philip K. Dick short story, for mid-six figures, the film studio said Tuesday. The story, described as a technological Planet of the Apes, is set at a time when robots are the dominant species and mankind has forgotten its former hegemony. One man discovers the truth and must rise through the society in order to put things right.

Fiction by Dick has been the genesis of such films as Blade Runner, Total Recall, and Screamers. For more information from Wired News, click here.