Paul Williams was a friend and early champion of Philip K. Dick before anyone had ever heard of him. He wrote the famous 1975 Rolling Stone article that launched PKD into the public eye. He was PKD's literary executor for many years after Dick's death in 1982. Paul is also a music critic who has been around the music scene seemingly forever. What a career and a tragedy that he suffered in this accident. Here's news about a benefit that has been organized on his behalf. If you're in Portland, please try and make it. He can use your help. Here's the news: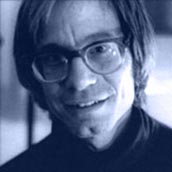 "Right now, Paul Williams, one of the pioneers of rock criticism, is in very serious trouble. As a 17-year-old college student in 1966, Williams founded the gloriously anarchic Crawdaddy! magazine, which predated both Rolling Stone and Creem. After he left Crawdaddy!, Williams sang in the background on the Plastic Ono Band's "Give Peace a Chance", published a series of books about Bob Dylan, and wrote a Rolling Stone article that helped repopularize the work of the cult sci-fi author Philip K. Dick.
In 1995, Williams suffered a traumatic brain injury in a bicycle accident, which may have caused early onset Alzheimer's. Last year, Williams' wife Cindy Lee Berryhill had to move him to an assisted living facility when she couldn't care for both him and their eight-year-old son. Right now, Williams' family is taking donations to help with his care. And given that Williams was working as a freelancer before his accident, their need is particularly great."
Paul Williams Benefit featuring
Dear Ether, Naming Names, Soft Tags & Lookbook
at Someday Lounge (125 NW 5th Ave)
May 9th. $6
Portland, OR