December 26, 2004 - Music from Titan Released to Public; Inspired by Philip K. Dick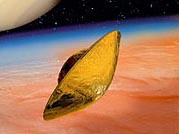 The first music from Titan will be played on the alien world of the Saturian moon Titan on January 14, 2005 to commemorate the successful landing of the European Huygens spacecraft but you can hear it now as the craft is readied for departure from its "mothership" Cassini.

French musicians Julien Civange and Louis Haeri are set to blast rock-n-roll about the Saturian moon Titan January 14, 2005 as the European spacecraft Huygens lands on the alien world nearly 1 billion miles from Earth.

The Cassini-Huygens spacecraft is carrying a 14-minute CD loaded with music from the two little-known French artists who will have the honor of having their tracks broadcast to any alien ears that may be listening. The music event will be the farthest distance from Earth at which human-made sounds will have landed on another celestial body. The last tune, "No Love", channels Civange's preferred sci-fi author Philip K. Dick by evoking questions about what space travel means.

The European space probe Huygens is on target to reach Titan after successfully separating from its US spacecraft Cassini on December 25. It will take Huygens 20 days to reach Titan, the only moon in the solar system which has an atmosphere.
November 13 - Nicolas Cage Set to Star In Big-Screen Adaptation of Philip K. Dick's "Golden Man"

From Variety (Friday, Nov. 12)

"Nicolas Cage will star and Lee Tamahori will direct the action thriller "Next" for Revolution Studios.
Cage will also produce the pic, based on "The Golden Man," a story by sci-fi writer Philip K. Dick. Gary Goldman, who adapted a Dick story into "Total Recall," penned the script.
Cage will produce along with his Saturn Films partner Norm Golightly. Goldman will be an executive producer, along with Jason Koornick, who holds the rights to Dick's short story. Derek Dauchy will oversee the project for Revolution.
Cage will play a man who can see the future and change events before they happen. Eventually, he is forced to choose between saving the world and saving himself.
"This is a movie that translates the excitement of the videogame experience into the cinema," Goldman said.
Goldman optioned the story and wrote the script on spec. He brought it to Saturn, which teamed with CAA to approach Revolution's Todd Garner with it.
Pic is expected to start shooting next summer."
June 12, 2004 - Philip K. Dick's Visage Graces the Cover of the Los Angeles Times Book Review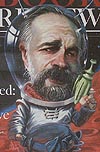 Readers of the Los Angeles times were treated to a cariacture of Philip K. Dick which was featured on the cover of the Book Review this Sunday. The cover was part of a review of Emmanuel Carerre's new book "I Am Alive and You Are Dead". Even more impressive than the review by Francie Lin was the cariacture by Thomas Fluharty which depicts a bearded PKD holding a ray gun on the surface of an alien planet. A three-eyed moon gazes down at Phil who has a perlexed expression on his face.
June 12, 2004 - Exclusive Report and Photos from A Scanner Darkly Movie Set in Austin, Texas

Phil Dick's daughters, Laura and Isa took a trip to Austin, Texas where Richard Linklater is directing the film adaptation of PKD's classic novel A Scanner Darkly. The sisters were overwhelmed with support and appreciation for their father's work by the cast and crew. They have posted a report on the Official PKD Web Site with photos and exclusive information about the production. The upcoming movie stars Keanu Reeves, Woody Harrelson, Robert Downey Jr., Winona Ryder and Rory Cochrane in what is being called the most faithful film adaptation of a Philip K. Dick novel or story. Keep your eyes on this one folks, it could be the movie PKD fans have been dreaming about.
Read the report from Isa and Laura's on-set visit on the Official PKD Web Site
June 7, 2004 - New Philip K. Dick "Biography" Chooses Fiction Over Fact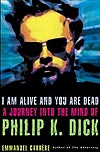 A newly released English translation of Emmanuel's Carrere "I Am Alive And You Are Dead: The Strange Life and Times of Philip K. Dick" is now available commercially in the United States. Carrere, the French writer best known for writing "The Adversary" wrote a subjective biography of Philip K. Dick that uses many of Phil's own narrative devices to tell his own story. The result is a book that may be an interesting read but doesn't purport to accurately depict Phil's life and relationships.
PKD admirers who have read "I Am Alive And You Are Dead" are encouraged to share their thoughts in the PhilipKDickFans.com Forums.
May 15, 2004 - Online Blog asks "What Would Dick Think?"



If you think reality is becoming increasingly like a Philip K. Dick nightmare, you will undoubtedly appreciate David Johnson's online blog which explores the world through a Philip K. Dick-inspired lens. Entitled "What Would Dick Think? (WWDT)", Johnson sees evidence of a PKD-imagined world in politics, technology, philosophy and reality in general. When he's not creating online content about the strange reality we live in, Johnson is also a philosophy professor at the University of Maryland. These keen and insightful observations earn the pretigious endorsement of the PhilipKDickFans.com web site. Recent topics of interest include the Iraq prison abuse scandal, twisted religion and the Friends finale.
March 30, 2004 - Keanu Reeves To Star in Film Adaptation of Philip K. Dick's A Scanner Darkly Directed by Rick Linklater
Variety reports that Keanu Reeves is set to star in "A Scanner Darkly" for director Richard Linklater ("School of Rock.") The film will be based on a Philip K. Dick short story, with Linklater penning the latest draft of the screenplay. "A Scanner Darkly" will employ the same technology Linklater used in "Waking Life": It will be shot live-action, then animated.
The film tells the story of undercover agents in the future who change their faces and identities. Reeves will play an agent who develops a split personality.
The film will also be produced by George Clooney and Steven Soderbergh's company Section 8 and shooting is set to begin in May.
March 30, 2004 - Lies, Inc. Available for the First Time in The U.S. Through Vintage Books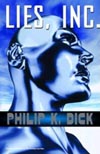 Originally published as as a novella in 1964, Lies, Inc. is the final, expanded version of The Unteleported Man, which Dick worked on shortly before his death. In Lies, Inc., fans of the science fiction legend will immediately recognize his hallmark themes of life in a security state, conspiracy, and the blurring of reality and illusion. This publication marks its first complete appearance in the United States. The book is now available from Vintage Books in trade paperback.

February 19, 2004 - New Book Explores Religion in the Work of Philip K. Dick

In "Pink Beams of Light from the God in the Gutter: The Science-Fictional Religion of Philip K. Dick", Gabriel McKee gives an overview of Dick's religious experiences and his attempts at communicating them in published works, drawing on Dick's fiction as well as his private journals and personal correspondence.
January 12, 2004 - Time Magazine Online Profiles the Life and Aftermath of Philip K. Dick

Richard Corliss writes on the Time Magazine web site:
"Fifty years ago you could have found some of the most imaginative, rule- and mind-bending fiction, published at an insanely prolific rate. If only you knew where to look. Not in The New Yorker or Esquire or The Partisan Review — at least, not for our immediate purposes — but in tatty 35-cent magazines dedicated to science fiction...In 1953, on the instantly-yellow pages of these infra-dig rags, one could often find the work of a 24-year-old Cal-Berkeley dropout, Philip K. Dick."
January 1, 2004 - Scientific American: Can Memories be Erased?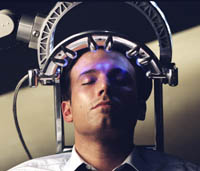 In the movie Paycheck, a crack reverse engineer helps companies steal and improve upon the technology of their rivals, then has his memory of the time he spent working for them erased. The story, based on Philip K. Dick's sci-fi thriller of the same name, is set in the near future, but such selective memory erasure is still highly speculative at best. ScientificAmerican.com asked neurobiologist James McGaugh of the University of California at Irvine, who studies learning and memory, to explain what kinds of memory erasure are currently possible.
December 25, 2003 - Philip K. Dick's Paycheck In Theaters Today



The major motion picture adaptation of Philip K. Dick's 1952 short story "Paycheck" is slated for a Christmas release from Paramount Pictures. Starring Ben Affleck and directed by John Woo, the movie is about a scientist in the future whose memory is erased after he completing a job working on a top-secret project. Using a bag of clues he left for himself, he must piece together his past while being hunted by evil forces. The trailer is available online at the link below.
December 24, 2003 - PKD In The Media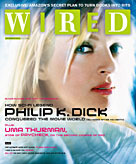 A flurry of publicity about Philip K. Dick has emerged in major media outlets in the past few weeks, in anticipation of the release of Paycheck, the latest movie based on his work. Here are links to the stories that are available online.

A cover story in the December issue of Wired magazine highlights PKD's contributions to Hollywood and popular culture while National Public Radio and Canadian Broadcasting paid tribute to the author's vision earlier this month. And Time Magazine ran a picture and blurb about PKD in their article about alternative Christian texts.

December 16, 2003 - Happy 75th Birthday Philip K. Dick!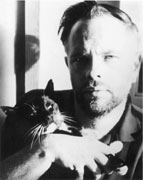 Philip K. Dick was born on December 16, 1928. He passed away in 1982. He would have been 75 years old today. Thanks for all the inspiration, PKD.
November 28, 2003 - Famed Science Fiction Author Philip K. Dick Gets "Official" at www.PhilipKDick.com; Rare And Unpublished Materials Revealed For The First Time.

The Philip K. Dick Trust is pleased to announce the launch of www.PhilipKDick.com, the official web site dedicated to the work, life and vision of the prolific science fiction author, whose stories became the films "Blade Runner", "Total Recall", "Minority Report" and the upcoming "Paycheck", directed by John Woo and staring Ben Affleck. A cover story in the December issue of Wired Magazine highlights Philip K. Dick's contributions to film, literature and popular culture.
His three children, Laura, Isa and Christopher make up the Philip K. Dick Trust. In celebration of the launch, they are making available online previously unpublished writings and other content from Mr. Dick's voluminous archives. This includes illuminating letters, family photographs, "Blade Runner" concept sketches given to Dick by the movie studio, an unwritten book proposal, rare interviews, and pages from the Exegesis - the holy grail of Philip K. Dick musings which has only been published in excerpts.
December 3, 2003 - New York City Theatre Company Stages Philip K. Dick Workshop: "800 Words: The Transmigration of Philip K. Dick"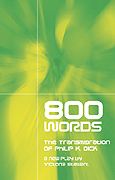 Hourglass Group's Next Stage Festival 2003 presents a workshop of "800 Words: The Transmigration of Philip K. Dick" by Victoria Stewart, directed by Erica Gould and starring Steven Rattazzi as Philip K. Dick.

"A funny, dark, hallucinatory trip into the mind and final days of Philip K. Dick, science fiction writer and visionary, as he contemplates the nature of reality, the existence of God, and the Hollywood release of "Blade Runner," based on his novel "Do Androids Dream of Electric Sheep?"
Thursday December 11- Saturday December 13
Hinton Battle Theatre Lab
432 West 42nd Street (9th and 10th)
Suggested donation $12, $8 students/seniors
RSVP (212)439-8122
or rsvphourglassgroup@hotmail.com more info at www.hourglassgroup.org
October 19, 2003 - Philip K. Dick's Paycheck Hits Theaters in December

The major motion picture adaptation of Philip K. Dick's 1952 short story "Paycheck" is slated for a Christmas release from Paramount Pictures. Starring Ben Affleck and directed by John Woo, the movie is about a scientist in the future whose memory is erased after completeing a job working on a top-secret project. Using a bag of clues he left for himself, he must piece together his past while being hunted by evil forces. The trailer is available online at the link below.

October 19, 2003 - A Bio-Mental Connection: Monkeys' brains move robotic arms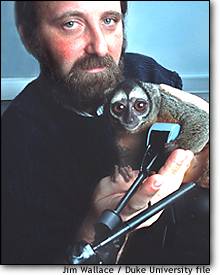 Reality imitates fiction once more. In this case it comes directly from the pages of Philip K. Dick's "Solar Lottery" (1955). The Washington Post writes (Oct. 13, 2003):
"Scientists in North Carolina have built a brain implant that lets monkeys control a robotic arm with their thoughts, marking the first time that mental intentions have been harnessed to move a mechanical object.
The brain implants could also allow scientists or soldiers to control, hands-free, small robots that could perform tasks in inhospitable environments or in war zones."
October, 2003 - Technovelgy.com Focuses on Philip K. Dick "Inventions"

Bill Christensen has created Technovelgy.com, a web site comprised of "inventions" from classic science fiction novels. Presently 10 Philip K. Dick items are included in the database including "kipple" and "Voight-Kampff Empathy Test" from Do Androids Dream of Electric Sheep. PKD fans are invited to e-mail more PKD inventions though the web site.

Among the other featured authors are Ray Bradbury, Douglas Adams, Ursula LeGuin and Kurt Vonnegut.
August, 2003 - PKD Otaku: New Web Site Showcases Philip K. Dick
Patrick Clark's "PKD Otaku" fanzine is now available online with lots of great material for Philip K. Dick fans including letters, reviews & secondary material. Additionally, fans can download past issues, read selected articles & stories and get the latest news.
August, 2003 - Russell Galen, Philip K. Dick Agent Launches Agency Web Site

The Scovil Chichak Galen Agency has launched a new web site. Learn more about Russell Galen, the long time agent of the Philip K. Dick Estate.
April 24, 2003 - Researchers Use Lab Cultures to Control Robotic Device

Shades of Maze of Death and Dr. Futurity...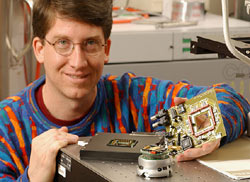 The Hybrot, a small robot that moves about using the brain signals of a rat, is the first robotic device whose movements are controlled by a network of cultured neuron cells.
Steve Potter and his research team in the Laboratory for Neuroengineering at the Georgia Institute of Technology are studying the basics of learning, memory, and information processing using neural networks in vitro. Their goal is to create computing systems that perform more like the human brain.
"We call it the Hybrot because it is a hybrid of living and robotic components," he said. "We hope to learn how living neural networks may be applied to the artificial computing systems of tomorrow. We also hope that our findings may help cases in which learning, memory, and information processing go awry in humans."
Read the full story from the Georgia Institute of Technology
May 2003 - Scientific American: Parallel Universes Exist

"Not just a staple of science fiction, other universes are a direct implication of cosmological observations", Scientific American reports in it's May 2003 issue:
Is there a copy of you reading this article? A person who is not you but who lives on a planet called Earth, with misty mountains, fertile fields and sprawling cities, in a solar system with eight other planets? The life of this person has been identical to yours in every respect. But perhaps he or she now decides to put down this article without finishing it, while you read on.
The idea of such an alter ego seems strange and implausible, but it looks as if we will just have to live with it, because it is supported by astronomical observations.
March 12, 2003 - Benetton clothing to carry tiny tracking transmitters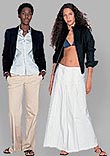 NEW YORK (AP) -- Clothes sold at Benetton stores will soon contain microchip transmitters that allow the Italian retailer to track its garments from their point of manufacture to the moment they're sold in any of its 5,000 shops. Benetton's introduction of "smart tag" tracking technology will be the largest example of a trend now emerging in the retail industry, according to Phillips Semiconductors, a unit of the Dutch electronics giant that designed 15 million tags being delivered to Benetton this year.
Benetton's Sisley line of clothing will contain a Philips Electronics radio frequency ID tag that will replace ubiquitous bar codes, which have to be manually scanned. An RFID tag communicates its location to Benetton's computerized supply chain network, allowing the retailer to learn the status of its inventory at a glance and make restocking decisions quickly -- even automatically, said Terry Phipps, Benetton's electronic data processing director.
February 23, 2003 - Researchers: It's easy to plant false memories

University of California-Irvine psychologist Elizabeth Loftus presented preliminary results of recent false memory experiments Sunday at the national meeting of the American Association for the Advancement of Science. The research demonstrates that police interrogators and people investigating sexual-abuse allegations must be careful not to plant suggestions into their subjects.
Loftus said some people may be so suggestible that they could be convinced they were responsible for crimes they didn't commit. In interviews, "much of what goes on -- unwittingly -- is contamination," she said.
February 23, 2003 - New play about Philip K. Dick set for April debut in NYC

From the acclaimed writer of The Last Days of Lenny Bruce comes "2-3-74 The Exegesis of Philip K. Dick", an examination into the life of the acclaimed Science Fiction author.

The play finds Philip Dick replaying parts of his life. Things are happening again, but out of order and turned on their head. Is the pink laser talking to him really God? Is his twin sister Jane alive and well? What about his friends? Are they really who they say? A life as complex, paranoid, and thrilling as any one of the dozens of his novels.

Captured and brought to life by Jonathan A. Goldberg his newest play embodies the soul of Philip K. Dick and explodes it on stage. A special sneak preview of "The Exegesis of Philip K. Dick" will take place on April 25, 2003 at The Producer's Club (358 W. 44th Street, New York, NY 10036). Tickets are $10.
February 17, 2003 - Android Emotion: New robot face smiles and sneers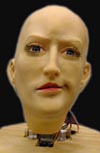 New Scientist: A new robot that, according to its creators, can express a full repertoire of human facial expressions was unveiled on Sunday.
K-bot's face is modelled on one of her creator's friends K-bot has a feminine face and is capable of 28 facial movements, including smiling, sneering, furrowing her brow and arching her eyebrows. She also has cameras in her eyes to recognise and respond to humans.
David Hanson, of the University of Texas, Dallas, sculpted K-Bot's face using an electroactive polymer with 24 artificial muscles to provide facial movement. Her predecessor - Andy the android - had just four facial movements.
"This is the face for human robotics," Hanson told the American Association for the Advancement of Science's annual meeting in Denver. Previously, Hanson has designed robots for Disney theme parks.
January 13, 2003 - The future of privacy:Are spy chips set to go commercial?

ZDNET: "Could we be constantly tracked through our clothes, shoes or even our cash in the future? In the future, we could be tracked because we'll be wearing, eating and carrying objects that are carefully designed to do so.

The generic name for this technology is RFID, which stands for radio frequency identification. RFID tags are miniscule microchips, which already have shrunk to half the size of a grain of sand. They listen for a radio query and respond by transmitting their unique ID code. Most RFID tags have no batteries: They use the power from the initial radio signal to transmit their response. "
December 2002 - Esquire Declares Philip K. Dick One of "The Best And Brightest Dead People"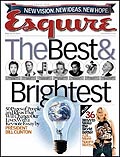 PKD joins singer Eva Cassidy and economist Hyman P. Minsky on December 2002 Esquire's "The Best And Brightest Dead People" list:
"Since his death in 1982, Dick has become one of Hollywood's shrewdest, most powerful players. This year alone, the sci-fi writer had two movies based on his books (Minority Report and Impostor), buttressing his previous posthumous output (Bladerunner, Total Recall, Screamers), with plenty more on the way, no doubt. If you want to make a film about a privacy-deprived, media-obsessed, paranoid future, visit John Ashcroft's Web site or get to know your Dick."
December 12, 2002 - Movie Posters That Talk Back

Fiction becomes reality once again. The New York Times reports: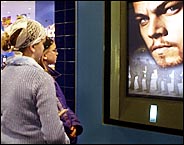 "Movie posters - paper-and-ink enticements that can be traced to the days of nickelodeons - have over the decades become so commonplace in theater lobbies that they have practically faded into the wallpaper for millions of American moviegoers. Noticed, maybe, yet never really seen.
But what if those posters could talk? What if Leonardo DiCaprio could stare out from a wall and wink at passers-by? What if, rather than being frozen on a poster for the latest James Bond movie, Pierce Brosnan and Halle Berry could leap in a full-motion, fist-flying fury to a stereo soundtrack? And what if these posters could interact with film patrons, recognizing their tastes and quickly matching their interests with trailers and show times for movies that they most likely want to see?"