December 10, 2002 - Techgnosis Author Erik Davis "Explores the Cult of Philip K. Dick"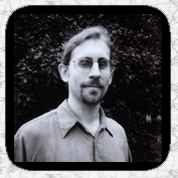 Come celebrate Philip K. Dick's birthday with a lecture-performance by techgnostic scholar Erik Davis at Spanganga in San Francisco on Sunday, December 15, 2002. Treating Dick as the supreme visionary of California's crazy-wise spiritual imagination, Davis will explore the connections between Dick's pulp mindfucks and today's increasingly surreal and disturbing political and religious landscape. The second half of the program will feature a rare 3D holographic recording of Brother Lance, Arch Dickon in Anaheim's Holy Church of VALIS, delivering a sermon on Saint Phil versus the Media Archons.
Erik Davis is the author of TECHGNOSIS: Myth, Magic and Mysticism in the Age of Information. He has written for Spin, Gnosis, Wired, Details, Fringeware Review, Rolling Stone, Lingua Franca, The Nation, and The Village Voice. He appeared in the Reality Checked Tentacle Session at the beginning of 2002, and will help usher out '02 with this celebration of Philip K. Dick's life and work, 20 years after the visionary science fiction writer's untimely death.
Join us in commemorating this signal visionary artist with a witty and fun homage presented by an engaging, adroit, and inspired acolyte .
Tentacle Session #37
Sunday, 15 December 2002
Spanganga * 3376 19th St. near Mission St., SAN FRANCISCO
7-10 PM, $5-10. Doors open at 7, show begins at 7:30. Seating is limited!
Books by PKD and Erik Davis will be available for sale courtesy of Borderlands Books.
November 27, 2002 - Stem Cell Mixing May Form a Human-Mouse Hybrid

The NY Times: "A group of American and Canadian biologists is debating whether to recommend stem cell experiments that would involve creating a human-mouse hybrid.

The goal would be to test different lines of human embryonic stem cells for their quality and potential usefulness in treating specific diseases. The best way to do that, some biologists argue, is to see how the cells work in a living animal. For ethical reasons, the test cannot be performed in people.

But if the human stem cells are tested that way in mice, any animals born from the experiment would be chimeras — organisms that are mixtures of two kinds of cells — with human cells distributed throughout their body. Though the creatures would probably be mice with a few human cells that obey mouse rules, the outcome of such an experiment cannot be predicted. A mouse with a brain made entirely of human cells would probably discomfort many people, as would a mouse that generated human sperm or eggs.

Dr. Irving L. Weissman, an expert on stem cells at Stanford University, said that making mice with human cells could be "an enormously important experiment," but if conducted carelessly could lead to outcomes that are "too horrible to contemplate." He gave as an extreme example the possibility that a mouse making human sperm might accidentally be allowed to mate with a mouse that had made its eggs from human cells."
Read the full story from the NY Times (free registration may be required)
November 24, 2002 - It's Philip Dick's World, We Only Live in It

The New York Times ran a piece about Philip K. Dick the writer by Laura Miller in their Sunday 'Books' section.

"Predicting the future is not a risky line of work. Whether you are a supermarket tabloid psychic, the leader of a doomsday cult or an expert in a think tank, whether you predict the divorce of a movie star, the end of the world or merely the end of history, acolytes and book publishers will be remarkably forgiving if you get it totally wrong.

Where is the powerful cautionary fiction about the society we did wind up living in? Those with a robust tolerance for dislocation, for the vertiginous sensation of reality disintegrating underfoot and for the occasional streak of slapdash prose can find it in the work of Philip K. Dick.

A writer who pounded out dozens of novels and scores of stories in California between the 1950's and his death in 1982, Dick has his share of champions, ranging from rock musicians to French postmodernists. Since his best work was published as pulp science fiction, they've had their hands full just trying to win him a little credibility. Meanwhile, almost unremarked, Dick's sensibility has seeped wide and deep into contemporary life. "
Read the complete article from the New York Times (free registration may be required)
October 22, 2002 - Director John Woo keen on Philip K. Dick's "Paycheck"

John Woo may be the next director to helm an adaptation of a Philip K. Dick story. According to Variety, he is in talks to direct the film verion of Dick's 1953 short story "Paycheck" for Paramount. Woo, a former Hong Kong director is best known for high-action, over the top films "Mission Impossible 2", "Face Off", "Windtalkers" and "Broken Arrow".
Here's the full story from Variety:

Woo eyes Par 'Paycheck'

Paramount Pictures is banking on John Woo to direct "Paycheck." The helmer is in negotiations to direct the futuristic tale of a man who can't remember what he has done for the past two years. Based on a short story by prolific sci-fi writer Philip K. Dick, the protagonist must seek clues to his whereabouts using common objects such as a ticket stub and bus token to uncover a government secret.

Woo also is attached to direct "The Divide" at Disney. Helmer, repped by Endeavor, spent two decades in the Hong Kong film industry before making his U.S. debut with "Hard Target" in 1992. Since then, he's helmed "Face/Off," "Mission: Impossible II," "Windtalkers" and "Broken Arrow."

Brett Ratner had been in talks to direct "Paycheck" before committing to "Superman"; Kathryn Bigelow also had considered helming the project.

The script for "Paycheck" has been adapted by Dean Georgaris. Producers are John A. Davis, Michael Hackett and David Solomon.

"Paycheck" was originally published in 1953. Film adaptations of Dick's short stories have included "Minority Report," "Total Recall" and "Blade Runner," released shortly after Dick died.

Before its development at Par, "Paycheck" was set up at Roger Birnbaum's former Caravan Pictures. Caravan and Touchstone optioned the film rights to the short story in 1996.
Find out more about Paycheck on philipKdick.com
October 10, 2002 - Revolutionary computer interface mimics 'Minority Report' technology

University of Delaware researchers have developed a revolutionary computer interface technology that promises to put the bite on the traditional mouse and mechanical keyboard.
"This is not just a little step in improving the mouse, this is the first step in a new way of communicating with the computer through gestures and the movements of your hands. This is, after all, one of the ways humans interact." John Elias, UD professor of electrical and computer engineering, said. The technology uses a touch pad and a range of finger motions to communicate commands and keys to the computer. To open a file, you rotate your hand as if opening a jar; to zoom or de-zoom, you expand or contract your hand.

October 8, 2002 - Philip K. Dick Art Exhibition planned for Science Museum of Naples, Italy in September 2003, Italian TV to feature PKD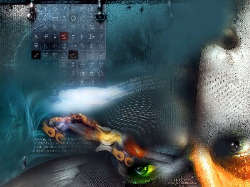 Lorenzo Canova, an italian art critic (from Rome) is organizing an art exhibition of young italian contemporary artists dedicated to Philip Dick entitled "I Pennelli Elettrici- da Ubik a Blade Runner-Omaggio a Philip K. Dick" (The Electric Brushes-from Ubik to Blade Runner- a Tribute to Philip K. Dick).
The show is set for September 2003 in the great Science Museum of Naples, Italy (Città della Scienza, Fondazione IDIS, Napoli, www.cittadellascienza.it). The Italian television program RAI SAT ARTE will broadcast a long program about PKD (and the exhibit) in December, 2003.
October, 2002 - Speak Clearly, Soldier, and Carry a Spare Battery: Translation technology has military uses

Philip K. Dick would have been fascinated with this attempt to use technology for a very human function. From the New York Times: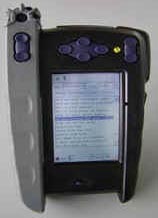 "Peacekeeping troops in Afghanistan will soon be relying on the sort of technology more often associated with wealthy American tourists than with the military.
In early March, a hand-held language translator developed by a former Navy Seal will be issued to more than 500 American soldiers in Afghanistan. The device, called the Phraselator, is encased in rugged weatherproof rubber, powered by a rechargeable lithium-polymer battery (or four AA alkaline batteries) and can translate more than 1,000 spoken English phrases with the press of a button.
Designed by John Sarich, a 20-year armed forces veteran who served as a Navy Seal in the Vietnam War, the device can instantly translate phrases like "I am here to help you" and "show me your identification" into Pashto, Urdu, Arabic or Dari. Users can also choose from a text menu of common phrases."
September, 2002 - Friend & Collaborator Ray Nelson recounts the "The Last Days of Philip K. Dick"

On his web site, science fiction author and cartoonist Ray Nelson remembers his friend and colleague Philip K. Dick in an amusing anecdote.
Ray Nelson is a Science Fiction author and cartoonist, well known for his art work from the golden age of Science Fiction fandom in the 1940s and '50s, up until the present day. In addition to having written numerous novels and short stories, Ray is the inventor of the propeller beanie, and his Short Story "8 O'clock in the Morning" was made into the paranoid cult classic "They Live", directed by John Carpenter.
August, 2002 - Minority Report technology to become reality in not-too distant future

USA Today reports on how retina scanning technology and microprocessors will be an integral part of our daily lives using examples from 'Minority Report':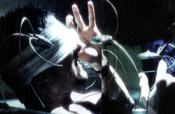 "In the world of 2054, as portrayed in the summer movie Minority Report, surveillance is a constant presence.
But the real future is unlikely to be anywhere near that intrusive. Think instead of a gentle dusting of almost microscopic sensors in everything we use, wear, walk on and drive, all calling out to each other in a radio whisper we never hear or see but that tracks us like a mother following a 2-year-old to keep her out of trouble."
August 5, 2002 - Writer Jonathan Lethem waxes eloquent about PKD in Bookforum article

Jonathan Lethem writes in his article entitled "You Don't Know Dick":
"Not like I do, anyway. Philip K. Dick (1928–82) is the only prolific author whose whole life's work I can justly claim to have read through twice, picayune exceptions notwithstanding. The fact that my eyes may have passed over on second attack some of the lesser posthumous novels or the massive volumes of letters is surely compensated for by the fact that I've reread Ubik, The Three Stigmata of Palmer Eldritch, Martian Time-Slip, A Scanner Darkly, and a couple of other faves three, four, even five times since my discovery of Dick, long ago, at age fifteen. He was my "favorite writer" ten years before the start of the republishing boom (Vintage began reissuing his novels in 1991—eighteen titles so far, eighteen more to come in the next two years) and was as formative an influence on me as marijuana or punk rock—as responsible for beautifully fucking up my life, for bending it irreversibly along a course I still travel. I find I need to spill this now, not (I hope) merely to establish provenance but to get on paper, before it is too late to recall, some glimpse of what that special condition known as Dickheadedness meant in the lost years after his death and before his recent and ongoing canonization. Also, I need to warn you: Dick's "official shelf" as built by Vintage's heroic efforts is growing ever more strange and misleading as it makes contact with the outer reaches of his vast and woolly catalogue. So I offer myself as a native guide."
August 4, 2002 - PKD's Jewish connection analyzed in Jerusalem Report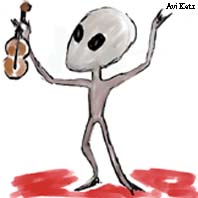 Sheli Teitelbaum writes:
"During his short and troubled yet wildly imaginative life, California writer Philip K. Dick, whose work inspired such memorable Hollywood blockbusters as "Blade Runner," "Total Recall" and, currently, Steven Spielberg's "Minority Report," juggled an assortment of alternating and often mutually exclusive worlds with breathtaking aplomb.
Not least among these was an abiding passion for German culture and music -- Dick was a devotee of Richard Wagner, defending the composer against charges of anti-Semitism and during the first years of World War II, extolling the cacophonous sturm und drang of the Nazi regime. But this morphed into an eventual loathing for fascism and appreciation for Jews and Judaic values."
August 1, 2002 - Sci-fi treasure trove donated to U of Calgary
Calgary — It came from the attic... the garage... and worlds beyond.
A massive collection of science fiction and pulp magazines spanning the last century has been donated to the University of Calgary which officials say will be a boon for literary and pop culture research. University staff were stunned by the size of the donation: upwards of 35,000 volumes dating back to the 19th century, much of it bought at second-hand stores across North America and Britain.
"It spans the age of science and technology," said retired English professor Susan Stratton, among the first to teach science fiction at the university in the 1970s. "In it we can study changes in perceptions of the role of women in society, the promises and threats of atomic power, of biotechnology."
The scope of the collection means scholars can chart when the starry-eyed "gosh, wow" view of science began to be challenged by the darker threat of advancing technology. "It's no longer escapist reading for teenaged boys — if it ever was," Ms. Stratton said Thursday.
July 30, 2002 - Truth mirrors (Minority Report) fiction as grocery lists are used to identify terrorists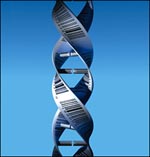 They thought they were making routine purchases—the innocent, everyday pickups of charcoal and hummus, bleach and sandwich bags, that keep the modern household running. Regulars at a national grocery chain, these thousands and thousands of shoppers used the store's preferred-customer cards, in the process putting years of their lives on file. Perhaps they expected their records would be used by marketers trying to better target consumers. Instead, says the company's privacy consultant, the data was used by government agents hunting for potential terrorists.
July 28, 2002 - Philip K. Dick's Future Is Now, reports Washington Post

A multi-page feature on Philip K. Dick ran in today's Washington Post featuring quotes by Phil's daughter Isa Hackett, agent Russell Galen, producer/screenwriter Gary Goldman and this site's webmaster Jason Koornick.
July 28, 2002 - Future of spying: Tiny flying bots

Here's an invention that Philip K. Dick foresaw more than 40 years ago in novels such as 'Galactic Pot Healer' and 'The Penultimate Truth':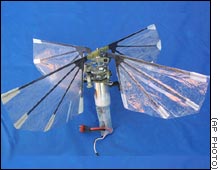 "Biologists and technologists at the University of California, Berkeley have spent the past four years developing a tiny robot, called the Micromechanical Flying Insect, that they say will one day fly like a fly.
The Berkeley project is among a handful aiming to engineer devices that can soar, dart and hover on gossamer wings that flap with a rhythm and precision otherwise found only in nature.
The projects are taking different paths, but the goal is the same: churn out tiny, nimble devices that can surreptitiously spy on enemy troops, explore the surface of Mars or safely monitor dangerous chemical spills.
The Pentagon's Defense Advanced Research Projects Agency is funding much of the work because of its potential application in both reconnaissance and surveillance. "
July 24, 2002 - Philip K. Dick Lands on British Bestseller List

For the first time in any country, Philip K. Dick is a top ten bestseller. 'The Collected Stories of Philip K. Dick, Volume 4: The Minority Report', is the sixth best selling hardcover title in the U.K for two consecutive weeks. His work continues to be more popular than it ever was during his own lifetime.
July 19, 2002 - Philip K. Dick Praised as "Wildly Original" in New York Times

This op-ed piece by Brent Staples entitled, "This Generation Needs a Paranoid's Paranoid" appeared in today's New York Times. The writer respects Dick's work but may have drawn his own conclusions about Phil's psychological profile particularly in regards to his childhood. The first two paragraphs appear below: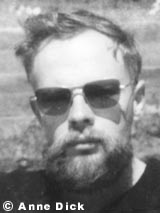 "The distance between the world we live in and the world depicted in science fiction has narrowed dramatically in recent years. Novels that once seemed futuristic because they featured pocket computers, palm-sized phones and genetically enhanced people have become dated — artifacts from a recent past. Minuscule by tradition, the science fiction market has contracted further, making it even more difficult for writers to find an audience.
The most dramatic exception is Philip K. Dick, a wildly original, amphetamine-addled genius who was married five times and found time to write 36 novels and 130 short stories in a 30-year career that, despite his productivity, kept him nearly broke for most of his life. Twenty years after his death, Mr. Dick has gained literary respectability and is one of the hottest properties in Hollywood."
Read the full article from the New York Times (Free registration may be required)
July 17, 2002 - Evolution in action as robots vie for survival in phildickian experiment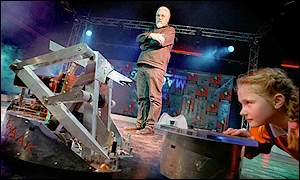 Robots are being let loose in a colony of machines in an attempt to find out whether they can learn from their experiences. The scientists behind this unusual experiment describe it as an evolutionary arms race for robots, with the machines struggling to collect energy. Visitors will be able to watch the real life Robot Wars in a purpose-built arena, designed to hold 500 people at the Magna science adventure centre in Rotherham in England.
July 15, 2002 - Exclusive interview with Gary Goldman, executive producer of 'Minority Report' reveals details of film's development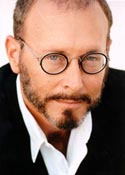 philipKdick.com is pleased to offer this exclusive interview with screenwriter/producer Gary Goldman entitled "The Minority Report on Minority Report". Goldman was the co-screenwriter of 'Total Recall' and the original writer and executive producer of 'Minority Report'. He discusses his entry into the business, what he looks for in adaptable material and PKD's influence on his work and Hollywood.
July 15, 2002 - Counterfeit Unrealities: New Philip K. Dick Omnibus Available through Science Fiction Book Club

A drug that "translates" users into Barbie-like dolls. A man who hunts and "retires" rogue androids for a living. An aerosol elixir that keeps things from reverting to their earlier forms. And a narc who?s unaware that he?s stalking himself. Find them all in The Three Stigmata of Palmer Eldritch, Do Androids Dream of Electric Sheep? (basis of the film Blade Runner), Ubik and A Scanner Darkly. Jacket art by Bruce Jensen. (Approx. 752 pages.)
July 2, 2002 - Record Number of Visitors Flock to philipKdick.com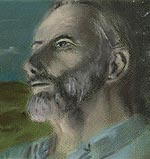 More than 30,000 unique visitors came to philipKdick.com between June 24 and June 30. The level of traffic is more than triple what the site receives in an average week. The spike in activity is proof that more people than ever before are aware of Philip K. Dick and his writing. The count is due in part to the release of the Steven Spielberg/Tom Cruise movie 'Minority Report' the week before as well as links from all over the web and publicity in national publications such as Entertainment Weekly.
June 26, 2002 - VR hallucinations used to treat schizophrenia

Exclusive from New Scientist:
A virtual reality environment that conjures up the terrifying sounds and sights of a patient's own hallucinations has been designed to help treat people with schizophrenia.
Psychiatrists plan to use the virtual environment to convince patients that their hallucinations are not real experiences, and that they suffer from an illness that requires treatment. They also hope that confronting patients with their own psychoses in this way will help when drug therapy fails, teaching them to ignore hallucinations in real life, just as virtual reality is already helping patients with phobias about spiders or heights.
During psychotic episodes, patients with schizophrenia can experience a wide range of hallucinations such as hearing their TV sets instructing them to kill themselves or seeing inanimate objects morphing into faces or people. One in ten people with the illness is eventually driven to suicide.
July 2, 2002 - Philip K. Dick Media Watch

Read about Philip K. Dick in these recent articles:
June 24, 2002 - Variety: 'Report' squelches Stitch bitch
Sci-fier finishes higher, winning margin only $416,913
"Tom Cruise does indeed carry serious clout where it counts -- among moviegoers.
Final figures showed Monday that 20th Century Fox's "Minority Report" won what had been a disputed box office victory over "Lilo & Stitch." "Report," a Fox/DreamWorks co-production and the first pairing of Cruise and Steven Spielberg, totaled $35.7 million to $35.3 million for "Lilo." (Variety.com)
June 22, 2002 - philipKdick.com Reviews Minority Report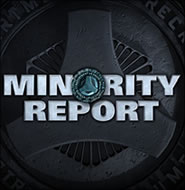 "Finally a movie that Philip K. Dick fans can be proud of," writes Jason Koornick, owner of the philipKdick.com web site in his review of Minority Report posted on the site today. The site, which receives over 8,000 unique visitors per week has seen that number jump in recent weeks in anticipation of the theatrical release of Minority Report. New fans are discovering the genius of Philip K. Dick as they flock to the web-based shrine devoted to the famous author.

Read the Minority Report review


Visit the official Minority Report web site


Order the Minority Report short story volume from Amazon.com
June 25, 2002 - Weekly World News Reports that Priests will be Replaced by Robots!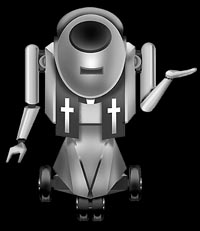 Philip K. Dick would have loved this ... In a bizarre story from the most disreputable of publications, the Weekly World News claims that the Pope will use "mechanical holy men" to short-circuit sex scandals gripping the Catholic Church!
From Weekly World News, June 25, 2002:
By SUSAN AMBROSINO
"Weekly World News has obtained top-secret blueprints that prove:
1. The technology to build the "mechanical holy men" does, in fact, exist.
2. Not only that, the first prototypes, which cost $2 million each, are just weeks away from being tested in as-yet unspecified parishes in the United States.
Neither the Pope nor official Vatican spokesmen are speaking for the record. But highly placed church sources who leaked blueprints and schematics concede that the survival of the church might hinge on the success of the Japanese-made "Kumachi" robots. "We are expecting these units to perform many of the duties of a human priest, including hearing confession, conducting Mass, officiating at weddings and funerals and giving sermons," explains a Vatican insider with ties to the project.
"Robots lack human emotions, impulses and intuitions, and that's certainly a drawback. But sooner than later, engineers will take the technology to the next level, and find ways to make these machines more lifelike."
Read the full story from Weekly World News.
See the robot program working here and recieve a confession if you need it!
June 14, 2002 - philipKdick.com Featured in Entertainment Weekly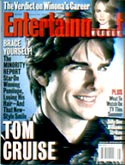 In conjunction with the release of Minority Report next week, Entertainment Weekly ran an article entitled, "Grand Delusions" about Philip K. Dick web sites. Author Hugh Hart conducted an interview with philipKdick.com founder Jason Koornick about the web site and his interest in PKD.
"Curious about the man behind the high concepts?" Hart writes. "Start with philipKdick.com. The encyclopedic, and unofficial site was founded five years ago by Jason Koornick, a 31-year old journalist who in 1994 began working his way through the entire Dick oeuvre after seeing Blade Runner.
"'I read Electric Sheep, and my mind was blown" he says. "This guy used elements of psychology, religion, and philosophy to write brilliant conceptual stories published in paperbacks with giant space aliens and big-busted women on the covers.'"
June 14, 2002 - L.A. Weekly Spotlights Paul Williams, Friend and Colleague of Philip K. Dick

From L.A. Weekly: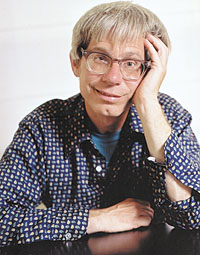 "TO BE A FAN IS SOMETHING LIKE THE very human quality of caring about the food you eat, or the clothes you own and wear, or the way that you look," says Paul Williams. At 54, he looks like an elder hippie -- a blond mop-top with white highlights, a big pair of glasses, blue jeans, and a faded yellow T-shirt emblazoned with the slogan "Peace is every step." He's the man who "discovered" Richard Meltzer by debuting his work in Crawdaddy!
Williams' Crawdaddy! was the first serious American rock magazine, preceding both Rolling Stone and Creem. Music magazines existed before, but they were either trade publications or hype sheets for teenagers, featuring pinups, Top 10 lists, breathless prose and titles like Tiger Beat. Crawdaddy! was the first music magazine as we would define the term today. Issue No. 1 came out January 30, 1966, when Williams was a 17-year-old freshman at Swarthmore College."