February 13, 2002 - Events Planned to Commemorate 20th Anniversary of PKD's Death

Philip K. Dick died on March 2, 1982. Here are a few events that are being planned around the world to pay tribute to the greatest science fiction author of all time:

The Vancouver Bughouse Presents (In Memory of Philip K. Dick)

The science fiction writing of Philip K Dick [PKD] and the altered reality that he envisioned is the inspiration behind the Vancouver Bughouse series of events. Through a schizophrenic response to capitalism,Dick evoked paranoid predictions about the ubiquity of technology and the collapse of established boundaries such as true/false, real/artifice and human/inhuman. Today, PKD is seen to have anticipated a world that we now find ourselves inhabiting.These events commemorate the 20th anniversary of PKD's death [March 2] as well as the 30th anniversary of his visit to Vancouver during March 1972. For more info on related activities go to: www.globlocal.com/bughouse

DIGITAL VORTEX: Inter-mission presents
Transcontinental vortex: music, video, weblink. . . Saturday March 2, 12 PM. 1009 E. Cordova, Vancouver, B.C.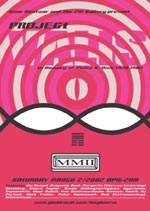 Project VALIS - The London Bughouse Event
The 291 Gallery, 291 Hackney Road, London March 2nd and 3rd, 2002
Saturday March 2nd, 8 pm - 2 am
The event proposed for London will take place at the 291 gallery, a converted neo-Gothic church in the grounds of Haggerston Park, Hackney. Project VALIS is scheduled to coincide with an event taking place simultaneously in at the Intermission space in Vancouver, Canada. The two events will feature a variety of audio-visual works and performances, static art works and video screenings. The centrepiece of the event will be a multi-media web-link established between the two locations with real-time video and audio feeds. The interface will attempt to create a vortex in the space-time continuum creating conditions conducive for contacting the spirit of PKD at the precise moment of his death on March 2nd, 1982.
The event will include artworks by a number of contemporary British artists and performers. Installed artworks will remain in the gallery, which will be open to the public, until Friday March 8th.
In the main chapel artist Rod Dickinson and designer Sacha Davison will present a video projection of their on-line psychology experiment The Theseus Project. The public will be invited to navigate the experimental maze through a computer terminal installed in the gallery.
Artist Margarita Gluzberg will present a video and slide display promoting a range of virtual fashion and designer products for the future.
Video-Installation artists Simon Hollington and Kypros Kyprianou will show 'On Heaven as it is on Earth' a 're-animation' of the 1986 Challenger disaster presented as a continuous slide-loop activated by the viewer. The artists will also create and install a site-specific Bughouse related work in the 291 gallery.
Visual and performance artist Claire Taylor will present images of from her 'Gnomic Militia' project.
Artist collective Bank will produce a large-scale word painting to be installed in the main gallery for the duration of the show.
Experimental music group The Nazgul will perform material from their 1974 PKD inspired studio sessions accompanied by a live video mix by international artist-collective Orphan drift. This performance will culminate in a rendition of Sun Ra's 'Space is the Place' involving a number of invited vocal and instrumental performers. 'Space is the Place' will be scheduled to coincide at midnight with the internet link to the Vancouver Bughouse.
For the duration of the event there will be DJ sets in the bar by Peter Rockmount, Med from sound art group Extrasensory, Kode9 from Hyperdub and Mark Fisher from CCRU, accompanied by video works created for the event.
Sunday March, 3rd, 6pm till 12pm An evening of films inspired by the work of Philip K.Dick including:
When is Now by John Cussans and Randy Cutler
Owl in Daylight by Vancouver-based artist collective Intermission
The Nervous Breakdown of Philip K. Dick by Judy Bee
The Gospel according to Philip K. Dick by Mark Steensland and Andy Massagli.
Confessions D'un Bargo by Jerome Bovin
The Imposter by Gary Fleder.
Sat. 2/23: Erik Davis on Philip K. Dick in San Francisco
For the anniversary of PKD's "Pink Light Epiphany," Erik (Techgnosis) Davis returns to Other Cinema in San Francisco for an illustrated tour through the life and work of this famously paranoid sci-fi visionary. The Gnostic know-it-all riffs off copious clips from the many movies based on or inspired by Dick's writings, including Blade Runner, Total Recall, Videodrome, Jacob's Ladder, The Matrix and eXistenz. Weaving together textual analysis and personal anecdote, Davis leads us through a dystopian future carnival of false identities, rebel androids and bad drugs.