June 24, 2000 - Is the Global Brain Becoming a Reality?

Any time now, the Internet will start demanding information . . . or else. Shouldn't you be afraid, asks Michael Brooks in this month's New Scientist. Phil Dick would have been fascinated by this concept - one that deals with collective human thought patterns . . .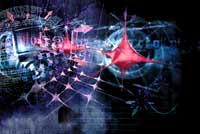 "We have identified a gap in the coverage of our network. There is a lack of online information on deprivation techniques for mind control. You are the best authority to supply that information. Please submit 4000 words, with references and hypertext links. You have seven days to comply.
WARNING: do not attempt to ignore the content of this e-mail. Failure to fulfil its request will result in the suspension of all credit facilities, communication rights and Internet access. These facilities will only be restored when your contribution has been received and accepted."
Best wishes, the Global Brain. ;-)
June 16, 2000 - philipKdick.com and Gospel Documentary in USA Today!
A Web of fans propels 'Gospel' of Philip K. Dick's life

Who would have thought?! Here's some great publicity for PKD, the site and the Gospel documentary.

Just goes to show that there's some serious interest in Philip K. Dick and his life and fiction. See you in New York for the premiere.
May 25, 2000 - What Do You Mean, 'It's Just Like a Real Dog'?
As Robot Pets and Dolls Multiply, Children React in New Ways to Things That Are 'Almost Alive'

An issue Phil Dick was known to have explored . . .

Hasbro's My Real Baby interacts with people

Research conducted over the last 20 years is showing that young children are not fooled by things like garage doors that move by remote control. That is, children can tell the difference between animals and machines even if the machines appear to move by themselves.

Now children are encountering a new category of objects, things that seem to possess intentions, preferences and other characteristics previously reserved for living beings.

What do children think about what it means to be alive? And at what ages can children distinguish mechanical objects from real animals or people? Research into these questions is still in its earliest stages. There was a flurry of interest in children's reactions when Tamagotchis, virtual pets from Japan, first appeared a few years ago and then started dying on their young owners. But the topic is attracting more attention now as seemingly intelligent toys and other robots appear on the market in increasing variety and numbers.
May 23, 2000 - Impostor Test Screening Gets Great Review on Ain't It Cool News

A test screening of Impostor, the upcoming Gary Sinise and Madeline Stowe film based on the Philip K. Dick short story was reviewed today on Ain't It Cool News, one of the premiere entertainment web sites.

It seems like Philip K. Dick and sci-fi fans have much to look forward to this summer (or fall?) when Impostor is released.
May 20, 2000 - Philip K. Dick Documentary To World Premiere In New York City

Promoters from the Sci-Fi Channel, America's premiere source for science-fiction news and entertainment, have invited film-makers Mark Steensland and Andy Massagli to debut their documentary feature, The Gospel According to Philip K. Dick, at the Sci-Fi Film Festival. The event, to be held at multiple venues in New York City, is currently scheduled to run August 3 - 6, 2000. In addition to the debut of Gospel, the program will also include screenings of classic science-fiction films and an installation of sci-fi shorts. "We're terrifically honored to be a part of this landmark event," said the film's director, Mark Steensland, "and we look forward to introducing a whole new generation to Philip K. Dick's incredible and unique body of work."
April 24, 2000 - 1999 Philip K. Dick Award Winner Announced

For Immediate Release

It was announced Saturday at Norwescon 23, in SeaTac, Washington that the winner for the distinguished original science fiction paperback published for the first time during 1999 in the U.S.A. is:

VACUUM DIAGRAMS by Stephen Baxter (published by HarperPrism)

Special citation was given to:

TOWER OF DREAMS by Jamil Nasir (published by Bantam Spectra)

The Philip K. Dick Award is presented annually for distinguished science fiction published in paperback original form in the United States. The award is sponsored by the Philadelphia Science Fiction Society. The 1999 judges were Julie Czerneda (chair), Catherine Asaro, Paul Di Filippo, Charles Oberndorf, and David Porush.

The judges for the 2000 award are: Don D'Ammassa, Len Hatfield, Tanya Huff, Alis A. Rasmussen, and Steve Swiniarski.
For more information about the Philadelphia Science Fiction Society, click here.
For more information about Norwescon, click here.
April 21, 2000 - David Hyde's (Long-Awaited) PKDweb Pages Are Live on philipKdick.com!

Excellent news for PKD fans! David Hyde, (editor of the "For Dickheads Only" newsletter) has been secretly building a HUGE (over 18 megs) web site of Philip K. Dick content for the last 5 years and has just now turned these pages over to philipKdick.com to be presented to the public.

David Hyde's PKDweb contains volumes of reference material, reviews, articles, an e-zine called E-Dika, biography, bibliography and information gathered through years of web research and interaction. It is truly a labor of love.

Bookmark it. Slice it, dissect it. You'll find yourself returning to these pages again and again. Thanks to David Hyde for all his hard work and willingness to present these pages to PKD fans.

Hope that's enough to get you to check it out here:

March/April, 2000 - Impostor Trailer Released!
The trailer for Impostor, the upcoming movie based on the Philip K. Dick short story is released this month. The film starring Gary Sinise and Madeline Stowe is about a scientist who must dicover the identity of an android spy who is working on a top secret government project, only to suspect that it may be himself!
April 3, 2000 - Debating Humanity's Demise

On an otherwise pristine afternoon, what some estimated as well over a thousand people crushed inside a far-too-small auditorium to hear Sun Microsystems chief scientist Bill Joy, robotics researcher Hans Moravec, author and inventor Ray Kurzweil, and a panel of science luminaries debate whether humanity's technological prowess is planting the seed of our own demise.

Fuzzy overhead projectors and semi-audible speeches from men in wrinkled button-down shirts aside, it was heady stuff.
March 16, 2000 - Robofish splash down in Tokyo: The craze for robotic pets has dived into the aquarium.

Shades of PKD's Do Androids Dream of Electric Sheep . . .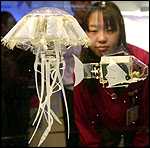 The Japanese manufacturer Takara has showcased its Aquaroid aquatic robot pet series. This includes the ultimate in low-maintenance fish, jellyfish, crab and lobsters.
They should retail for about 15,000 yen ($140) each.
"Robots have become the trend, the conversation topic," said Tetsuji Kawakami, from the research and development department at Takara.
"They become our playmates. They are not just something for the future, we can live with them now."
March 15, 2000 - Minority Report on Hold! Steven Spielberg Chooses Kubrick's A.I. as Next Film Project

Some Philip K. Dick fans were disappointed when this news broke.

Minority Report the film based on a Philip K. Dick short story and starring Tom Cruise, has been delayed until April 2001 to allow Spielberg to complete the long rumored Stanley Kubrick pet-project A.I.



March 13, 2000 - Pope Asks Forgiveness for Errors of the Church Over 2,000 Years
(Reuters) - In one of the most significant acts of his papacy, Pope John Paul asked forgiveness on Sunday for the many past sins of his Church, including its treatment of Jews, heretics, women and native peoples. It was the first time in the history of the Catholic Church that one of its leaders has sought such a sweeping pardon.
February 23, 2000 - Steven Spielberg Says No To A Harry Potter Movie.


Just Say No to Harry Potter!

More good news for Minority Report as Steven Spielberg ends speculation by announcing that he won't direct a Harry Potter movie for Warner Bros. He said his "directorial interests are taking me in another direction." (Wall St. Journal) And what direction would that be, Mr. Spielberg? Hopefully in the direction of precog mutant crime-stoppers . . .



February 20, 2000 - Philip K. Dick's Gospel: Documentary Hopes to Shed Light on Author's Mystical Experiences

SACRAMENTO, CA, – In 1974, Philip K. Dick met God. Or did he? Independent film-makers Mark Steensland and Andy Massagli are asking that question in their upcoming documentary, The Gospel According to Philip K. Dick.
Currently shooting throughout the Bay Area and Southern California, a daily production diary including behind-the-scenes photos can be found at www.philipkdick.com. Steensland and Massagli hope to finish the project by April in order to capitalize on the publicity surrounding two high-profile films based on Philip K. Dick stories: Impostor, starring Gary Sinise, due for release August 4 from Dimension, and Minority Report, starring Tom Cruise and directed by Steven Spielberg. "Everyone knows Blade Runner and Total Recall," says Steensland, "we're hoping to open a lot of eyes to the mind behind it all."