Ubik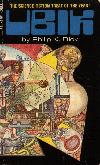 In a futuristic world where death can be delayed and corporations sell the services of telepathic visionaries, Ubik is a murder mystery of corporate intrigue and metaphysical consequences. The only problem is, we can't figure out who's dead. In this novel, one of my personal Dick favorites, benevolant businessman Glen Runciter appears to have been killed in an act of sabotage. His dedicated team of psychics race to uncover the truth in a world where nothing is as it appears. As the story progresses, time moves backwards as the characters remain in their current time period. This makes for some very clever situations as objects deteriorate before their eyes and a world from the past overtakes them. This book examines the nature of life and death, the obsession with consumerism and the role of technology in modern society. Ubik is a journey that fascinates, bewilders and ultimately leads to eternal salvation. Many comedic elements together with serious themes and mind-bending science fiction make this a must-read for fans (or fans to be) of Philip K. Dick.


Click here to order Ubik.


Click here to support our sponsor.
You don't want to miss this!


See the dark side of Ubik in John Meluch's
Ubik Noir
.