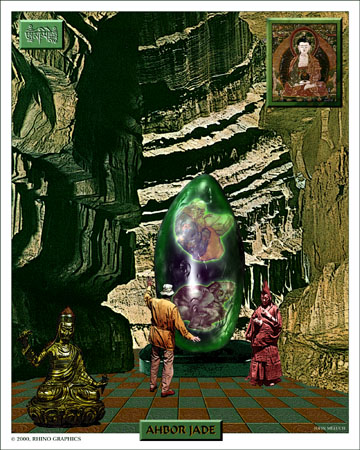 This digital collage was inspired by Talbot Mundy's classic, adventure/mystical thriller OM, THE SECRET OF AHBOR VALLEY which was written in 1924. The image illustrates one of the key scenes of this most remarkable story.

The central image of the composition - the magical Ahbor jade stone - is a collaborative effort with Tom Grimes, one of England's most talented 3-D digital artists. Here, Tom has successfully "embedded" the two images of the higher and lower nature of the soul of a spellbound western explorer, (a photo of me taken by my daughter Emily, age 13).

The statue in the lower left corner is a centuries old Tibetan deity. The image in the upper right hand corner is a Tibetan tapestry of the Buddha. And the icon in the uppper left corner is a rendering in Sanskrit of the famous mystical mantra, "Om Mani Padme Hum."

It is hoped that for those who are familiar with the story, this image wll bring to life the mystery of the Ahbor jade. And in turn, perhaps it will act as a prompt for those unacquainted with Mundy's masterpiece to read this wondrous nover and in effect take a mystical trek to Tibet where they, too, will learn "the secret of Ahbor Valley."